The main reason I Relay is Hope. As the world's largest fundraising fundraising event, it is the most effective way I have found to end cancer. It gives you the most "bang for your buck" and give everyone Hope that this horrible disease can be defeated.
All of us have been touched in some way by the effects of cancer. Whether it is you or a friend or loved one does not make a difference. It is devastating. When I received the diagnosis of uterine cancer in December 2011, it was surreal. So many feelings, so many questions.
After reality set in, I made a conscious decision to fight however I could to beat it in myself and anyone else faced with this. I underwent chemo and radiation and can thankfully say that I have been cancer free since September 2012.
This has not been and will not be the end of my decision to do whatever I can to fight this battle. I have found Relay to be one of the most effective way to fight this disease. During my battle, my family and friends gave me the courage to fight as hard as I could. Being part of a Relay team provides the means for me to continue this fight. There is strength in numbers!
The actual Relay for Life event is a concrete way to demonstrate why we fight this battle. We celebrate survivors. The ability to walk the survivor lap is a feeling that cannot be adequately explained. We also remember those who have been taken by this awful disease. Luminarias are a tangible way to honor these heroes. When we celebrate and remember, we offer HOPE!
Join us on June 4, 2016 at Masterson Station Park to be a part of this HOPE.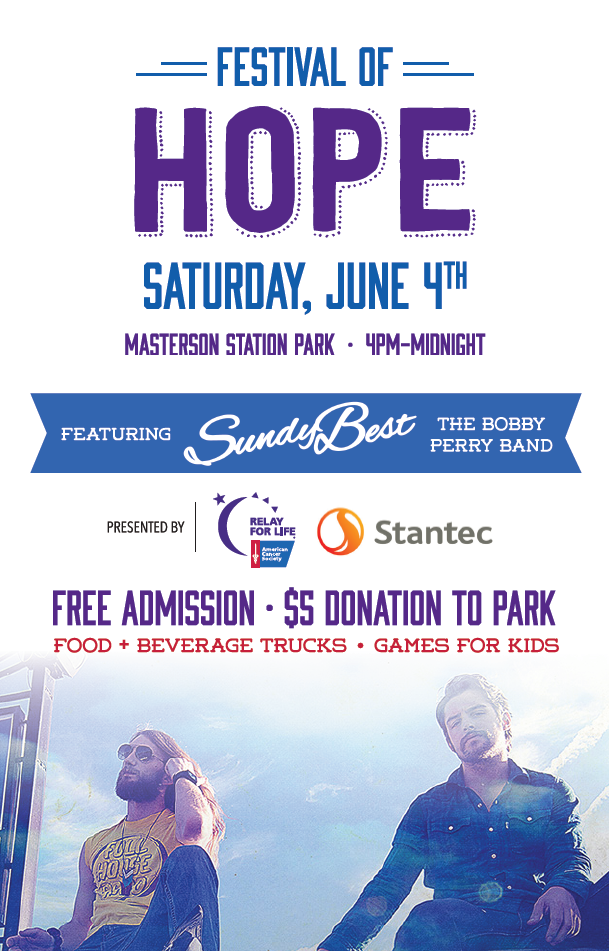 Posting comments after three months has been disabled.